The Wisdom of Teams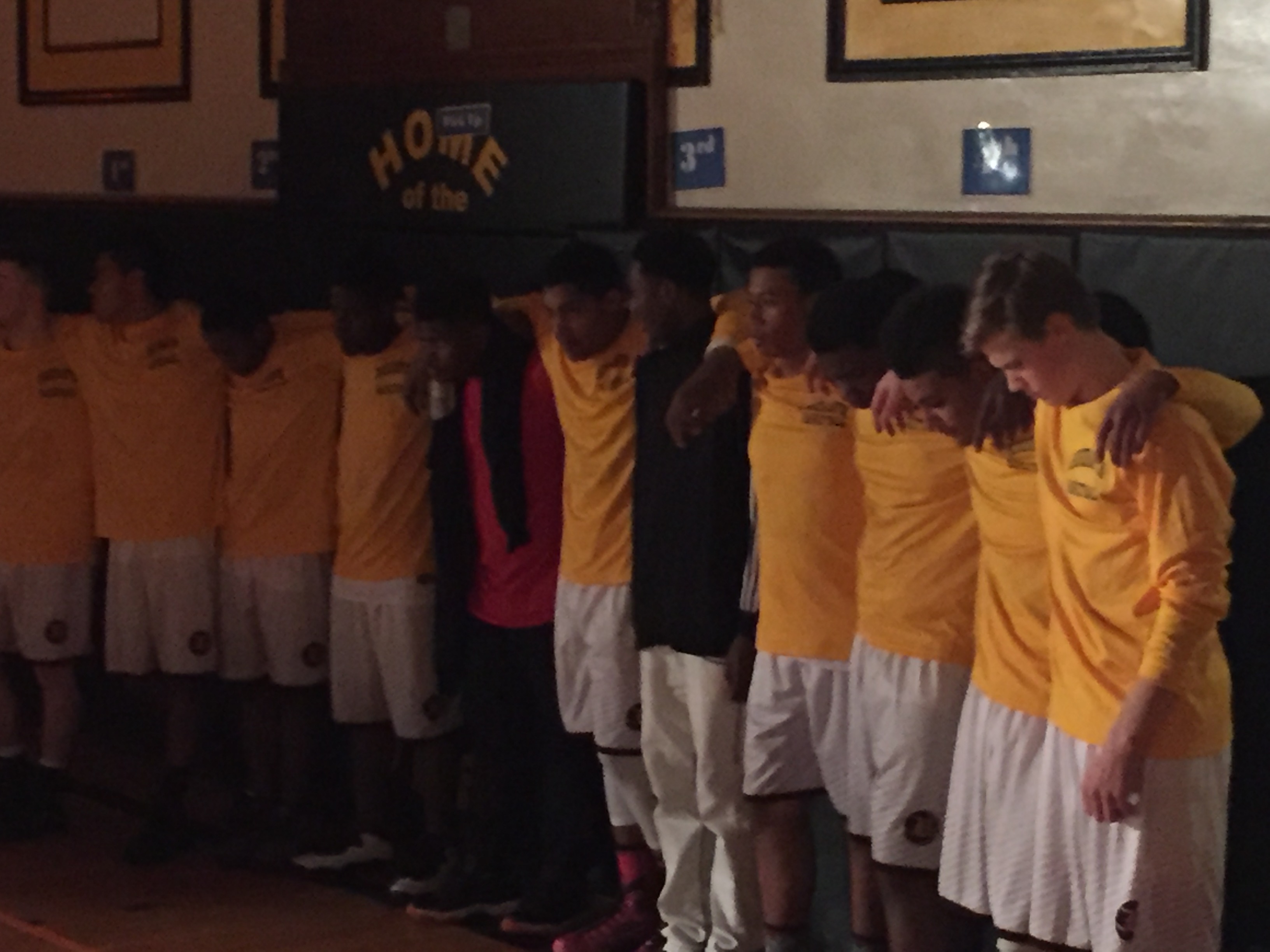 The game against the Settlers was supposed to be more of a challenge. A point guard on Southold always scores 20+, he has a gritty well respected and competitive team around him; in the least this was supposed to be a decent test that would last a few quarters and help get the Bees in fighting shape for Southampton. Instead it was another thrashing: 91-49 and it wasn't even that close. In fact it was over in the first couple of minutes. How can the Killer Bees time and time again thrash opponents like this who have bigger schools and on paper should at least give them a game? And if they have some magic formula for success can there be anything gleaned from their style of play that might carry over to other areas of life? As we mentioned in an earlier post, family is one reason. But what else is at work?
One of our closest friends from Bridgehampton who is also Killer Bees fanatic pointed us in a direction that offers some insight. A bit of background: this friend's bond to the team was formed when he was thrown out of prep-school for a year and he returned home to Bridgehampton do his time and see if he could get back on track. He attended the Bridgehampton School and as he was a stellar athlete he played for John Niles in the summer league, riding around in the back of a Coach Niles' pick-up truck with the likes of Troy Bowe and Darryl Hemby to play games. The experience taught him some of the lessons he needed at that point in his life and he's remained indebted to the program. After his time at the school and summer in the league, he reenrolled in prep school, was accepted at an Ivy League University and went on to become a success in both business and family life. This super person recently told us about the book that explains how a team like the Killer Bees can teach lessons in life that extend beyond basketball.
The book is call The Wisdom of Teams, and was penned by Jon R. Katzenbach and Douglas K. Smith. The following post is their chapter on how the Killer Bees can be used as a case study for how to create a high-performance organization.
(This book was written in 1999 so the win-loss record mentioned is not up to date and we all know the Bees now hold 9 state titles and are shooting for their 10th, which would be a state record.)
The Wisdom Of Team
Epilogue
A Call to Action
In the end, the wisdom of teams is in the team itself. It is not in creating the high-performance organization, managing transformational change, enforcing corporate performance ethics, or inspiring new dimensions of leadership. It is in a small group of people so committed to something larger than themselves that they will not be denied.
Our final story is about such a group. At one time or another, each of us as well as our editors, publisher, researchers, and advisors has tried to eliminate this story for all kinds of logical reasons: it did not fit; it was not a business story; it was not typical; it did not make the right point at the right time. Like most high-performance teams, however, this one kept defying logic. Perhaps more than any other story we could relate, this team draws out the emotion and spirit that underlies our argument.
The Killer Bees
In starting to write this book, we were determined to stay away from sports examples since they dominate the subject of teams and often present misleading analogies. But, in the end, we simply could not resist the Killer Bees  boys' high school basketball team from Bridgehampton, New York. Bridgehampton is a small hamlet on the southern shore of Long Island populated, except during the summer, by hard-working people of relatively modest means.
Winter in Bridgehampton is high school boys' basketball. Nearly every permanent resident and even many summer seasonal from New York City religiously follow the Killer Bees – and for good reason. They are an incredible team. Since 1980, they have amassed a record of 164 wins and 32 losses, qualified for the state championship playoffs six times, won the championship twice, and finished in the final four two other times. Not bad for a school whose total enrollment has declined since 1985 from 67 to 41, and whose entire male student body numbers less than 20!
"I don't really know why we did so well," says John Niles, who coached the Bees until 1991. "None of the players was ever really a standout, but they always seem to play pretty well together. I think the community has a lot to do with it. They really back this team – and have for years. Fathers, brothers, and cousins have played on earlier teams, and mothers, sisters and aunts cheer them on relentlessly."
Quite an understatement. Niles never had more than 7 players, never had a star who went on to the pros, and never had a very tall team. As a result, Niles and his boys had to develop different sets of skills and game plans very year. To win, the Bees had to be the ultimate in versatility, flexibility, and speed. Their game is "team basketball," and they are among the best at it anywhere.
As Niles hints, however, there is another strong explanation for the Bees' success: commitment. The Killer Bees have a richness and depth of purpose that eludes most teams. Their mission is more meaningful than just winning basketball games. They are committed to bringing honor and recognition to their community, to protecting and enhancing their legacy, and to one another. The Bees know what they are about and why.
Basketball makes Bridgehampton a tighter, closer community – and it makes those of us fro other communities a bit envious. It creates lasting friendships among players, provides a social context and meaning to many families, and delivers honor and recognition to a small town that far exceeds what a few basketball victories could be expected to do elsewhere. This is the essence of meaningful purpose.
All of which, in turn, fuels the incredible work ethic and skill development that characterizes the team. Bridgehampton boys start back-lot basketball before they start school and they continue practicing 365 days a year up to, through, and beyond their school years. When someone fouls out, falls ill, graduates, or moves to another school, his teammates always fill in and carry on. Moreover, Niles was clearly not the only leader. On-the-spot leadership emerges and changes during each game, depending on the situation and the players on hand. When Niles retired in 1991 he was succeeded by Carl Johnson, a former Bee himself.
The Bees always seem to rise to the occasion; they have been coming from behind to win against bigger, supposedly more talented opponents for more than twelve years. During 1989, for example, the state of New York threatened to close the school and merge it with another. Parents and friends fought the state regulators for months, but apparently to no avail. As the Bees prepared for one of their last games that season, the school appeared doomed.
The night, the Bees got off to a shaky start. Near the end of the game, they were behind, and it looked like they would lose when the news arrived that the state had relented and given the school one more year. Pandemonium broke out in the "Beehive," the gym they play in. The emotion and enthusiasm generated by the good news was overwhelming. The Bees rallied, won, and once again went on the the state playoffs – just another of dozens of come-from-behind victories in their rich history.
Like most high-performance teams, being a member of the Bees is its own reward. Niles insisted that scholastic performance come first; all his players graduated and most went on to college. Few Bees, however, had the talent to play ball in college and none has gone on to star with the pros. There is certainly no financial gain in being part of the team. Instead, all the rewards come from membership in – and vivid memories of – a unique, inspiring, high-performance team.
And just in case you think it's all the coach, John Niles retired in 1991 along with three graduating seniors players. Of course, this meant the loss of an incredible leader and mentor for the boys. At the very least, one would expect a couple of years of disappointment and rebuilding, maybe even the end of the high-performance Bees of the past decade. Those who follow the Bees, however, were not surprised to see them come out of the starting blocks the next season as though nothing had happened – still winning against larger, better opposition, still coming from behind to the delight of their fans, still bringing honor and recognition to their community. But we cannot describe the action of the community spirit half as well as Rick Murphy does in the East Hampton Star, describing a must-win game for the Bees against a tough Port Jefferson squad angling for a berth in the payoffs."
"It all added up to a Port Jefferson blowout, right? Wrong!… It was a blowout, okay, but it was the Bees who presided over the slaughter… The Royals came out breathing fire. The Bees were content to sit back in a half-court zone, and the taller Port players found that strategy much to their liking… The Bees closed to within 3 at half-time, but Port slowly built up an eight point advantage midway through the third stanza… And then it happened: the press, full court, in-your-face pressure that has been unnerving opponents for well over a decade was ordered by the (new) coach, Carl Johnson. So effective was the strategy that Bridgehampton had the game in the bag in a matter of minutes. LaMont Wyche, Terrell Turner, Robert Jones and Company turned the Beehive into a living hell for the visitors… The Pierson mentor, Ken Hunter, summer it up best: "The Bees don't rebuild, they reload."
Maybe some day this will all end. Certainly we do not know another high-performance team of any kind that has lasted as long. But it will take a lot more than the loss of a coach to quell the spirit of this high-performance team.