Filmography
Director
Blood In The Water
Three recent college grads get in over their heads while living beyond their means in Los Angeles.
Starring: Alex Russell, Willa Holland, Miguel Gomez
"Crime looks gorgeous in the Hollywood Hills-set thriller 'Blood in the Water' "-Noel Murray, LA Times
---
The Bridgehampton High School basketball team defends its Class D title and offers a way in to learn more about the African-American population in the Hamptons.
---
If I Didn't Care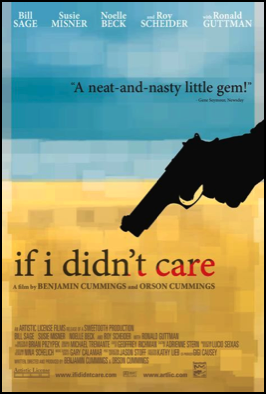 Trophy husband Davis Meyers' ill-fated attempt to produce an heir leads to infidelity, murder and tragic consequences. Classic film noir in the style of the '40s and '50s.
Starring: Bill Sage and Roy Scheider.
"… one of those Alfred Hitchcock Hour episodes that leaves you with the taste of Angostura bitters, wanting more. Blithely written and carefully directed by the talented Cummings brothers, Benjamin and Orson…" –Rex Reed
---
Nine Out of Ten
To prove he has what it takes to be successful in business a young man breaks the Ten Commandments.
Starring: Brian McQuillan
---
Writers
Blood In The Water
Blue Bloods (TV Series, CBS) (1 episode)
The Bogeyman (2014) (written by)
If I Didn't Care
Nine Out Of Ten
---
Producers
If I Didn't Care
Nine Out of Ten
Killer Bees