Retire or not retire. That is the question.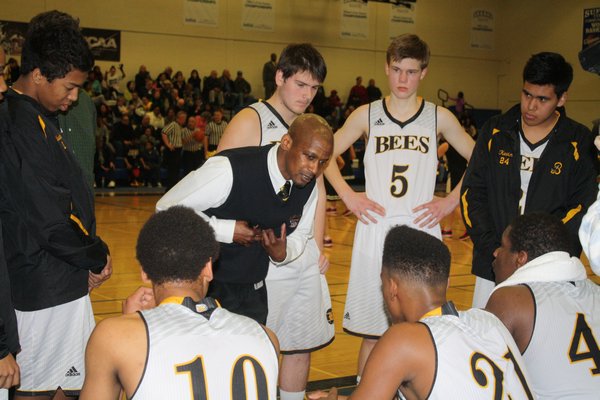 Reports that longtime Bridgehampton varsity boys basketball coach Carl Johnson has decided to retire are a bit premature, the coach said on Thursday morning.
Johnson, who led the Killer Bees to four state championships in 26 years at the helm, while also playing on three state title teams as a point guard at Bridgehampton, said he is likely to retire—95 percent sure, in his words—but stressed that he won't be making his final decision until after a week-long vacation to Jamaica at the end of April.
"There are a lot of things I want to think about," Johnson said. "When I get back [from vacation], I'll see how the batteries are. Right now, I'm 95 percent sure, but that could change."
Johnson admits he's been mulling retirement for several years now. He decided to return for the most recent season to lead the team in its quest to defend the New York State Class D title it won last year. The Killer Bees umtimately fell short of that goal, losing to Clark Academy in the regional final, one win short of a return trip to the state final four, although they did defend their Suffolk County Class D title and won the county C/D game, then beat Eldred in the southeast regional semifinal before the loss to Clark. Another factor in Johnson's decision to return last year was to be part of the final season for seniors Josh Lamison, Tylik Furman and Matt Hostetter. Lamison and Furman were five-year varsity players while Hostetter played under Johnson for four years.
Bridgehampton will have big shoes to fill with the loss of those players to graduation and will be more vulnerable than in recent years.
As for who could inherit the powerhouse program if Johnson ultimately decides to retire, the coach said he wants to make sure he leaves the program in capable hands. He said he'd be comfortable with either Bridgehampton Athletic Director Mike Miller or assistant coach Ronnie White taking control. Miller originally hails from upstate New York, while White is a Killer Bee alum, playing on championship teams in the 1990s.
Johnson said he expects to make up his mind after his vacation, and said he will make it official no later than June.