Movie Review – Blood In The Water – HK AND CULT FILM NEWS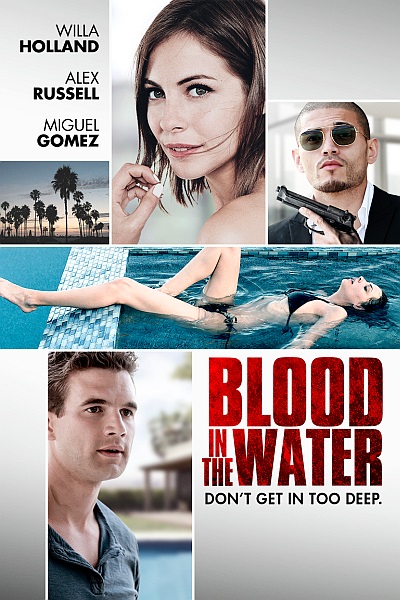 I love high-octane, breakneck-paced flicks as much as the next guy, but there's also a place in my heart for a good slow burn  suspense yarn with the smoky sheen of a modern noir.  Like BLOOD IN THE WATER (2015), for example.
The Cummings brothers, writer-directors Orson and Ben, have given their film a smart but not too complicated script and a keenly modern yet almost art deco visual sensibility that I think will age well.
Not only that, but the performances are as fun to watch as they are capable.  Willa Holland (LEGION, STRAW DOGS) and Alex Russell (CHRONICLE, CARRIE) star as Veronica and Percy, a young unmarried couple who have been house-sitting in the most amazing contemporary mansion in the Hollywood Hills with a swimming pool and a to-die-for view of Los Angeles.
But shortly before they're scheduled to leave and return to New York, a mutual friend named Freegood (Miguel Gómez, THE DOMINO EFFECT) shows up to catch up on old times.
Two important historical tidbits: Freegood is not only Veronica's ex-boyfriend, but he holds an old debt over Percy on which he has come to collect.  And as you might guess, it involves drugs, guns, bad guys, lots of ill-gained cash, and the fact that Percy was a chemistry major.
That the film begins with Freegood having been murdered and a naggingly inquisitive detective named Cortez (David S. Lee) interrogating a battered Veronica and Percy about it lets us know that things didn't go so well the night before.
Blood does indeed flow in that womblike pool (the cradle of life and death?) before this yarn is done, but just whose it is and how it happens is what keeps the viewer on edge while watching BLOOD IN THE WATER.
Romantic tensions reach a fever pitch–suffice it to say that Freegood definitely has designs on Veronica, who begins to doubt her commitment to Percy–while suspense builds throughout Percy's harrowing brush with the dark illicit drug culture of L.A.
Dialogue is sharply-written and never overly cute or quirky, and the Cummings brothers know how to direct pleasing visuals that have a nice flow to them.  While most of the story takes place in that one location, it never drags or gets boring.
Best of all, BLOOD IN THE WATER has a nifty little surprise ending that resolves the story in satisfying fashion without the need for a mind-blowing twist or final burst of action.  Like a stiff drink, it feels good going down and then gives you a warm glow in the pit of your stomach.
Limited Theatrical & Digital Release 8/26/16
Will be available on iTunes, Amazon, DirecTV, Time Warner Cable, Comcast Xfinity, Vudu, Hoopla, Google Play, etc.
Facebook Page: https://www.facebook.com/BloodintheWaterMovie/