Dan Rattiner's Two Things: On Killer Bees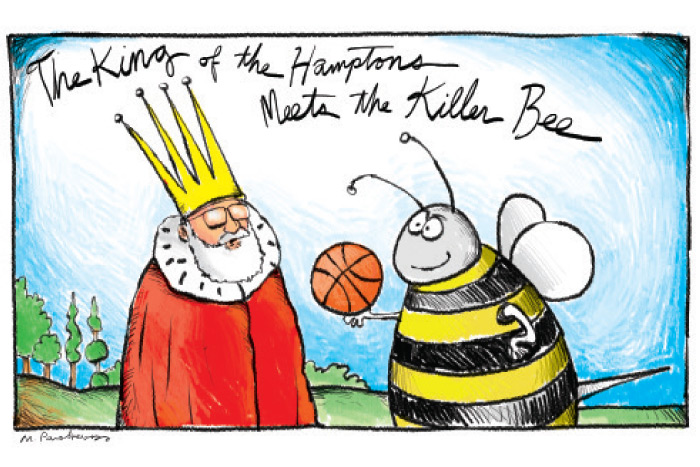 JANUARY 15, 2016 BY DAN RATTINER
TWO THINGS: A LESSON FOR DOCUMENTARIANS IN THE HAMPTONS, ANY TWO 
There's two things I would like to be able to say I've done before I die. One is, "We pulled off the heist." The other is, "I have to be back home by 11 because that's when the film crew is coming."
Fact is, it seems very unlikely I will get to pull off a heist. On the other hand, yesterday I got to tell a friend, "I have to be home by 11 because that's when the film crew is coming."
The film is called Killer Bees and it's about Bridgehampton High School's penchant for winning state championships in high school basketball. They've won it nine times in the past 30 years—a remarkable achievement—and last year they were led to the championship by Charles Manning Jr., whose father, Maurice Manning, 25 years ago led that long ago team to the championship. Father and son. Furthermore, the Killer Bees may win it again this year.
The filmmakers are Ben and Orsen Cummings, who went to Bridgehampton High School in the years when their "Killer Bees" started making their run. They were interviewing me because I've known them since they were little—I was good friends with their parents, the late Richard Cummings and Mary Cummings, both of Bridgehampton. Also I am very familiar with Bridgehampton, since I both lived there for a time and my Dan's Papers office was there for a long, long time. So I'm quite familiar with the Killer Bees.
"We've been going to every game," Orson told me when he was at my house. We were filming in the library. "And they are undefeated so far!"
I have all the back issues of Dan's Papers in the library going back to its founding in 1960. They are in 166 bound volumes, and the 167th volume is halfway filled, the last addition (edition) being last week.
Ben took out his cellphone.
"So I could Google 'Dan's Papers and Killer Bees,' get a date for a story you ran and you could pull it out of your library?"
I told him I could.
"Let's do two," he said. He got me two dates, and I went to the black volumes in the library and pulled out the two volumes they were in, put them on a desk and we opened them and found the stories. Ben filmed me doing this. We did it twice. Action. Go to bookcase, get out volumes, put on desk. Cut.
The brothers Ben and Orson are not the only two people making a documentaries out here. There are two women, Jennifer Brooke and Beatrice Alda (daughter of Alan and Arlene Alda), who were running around Sag Harbor recently making a movie called Legs. The legs are white fiberglass 16-foot-tall female legs created by artist Larry Rivers that the owners of the Vered Gallery, Ruth Vered and Janet Lehr, put up on the front lawn of their home on Madison Street in 2008 and which the authorities of the Village of Sag Harbor—at the urging of neighbors have been trying to get the gallery owners to take down. The legs are really just the stepping-off point for the film, which is about local and summer people downtown, and how they are for or against just about everything that takes place in this small town.
At this point, let us take notice of what you might now have guessed is the major premise of this story, which is that everything seems to be coming in twos. It began with the two things I would like to say (about heists and getting home), but it has continued well into the filmmaking that was subsequently described. Legs. Killer Bees. Ben and Orson, Jennifer and Beatrice, etc.
I think I am onto something here. As we continue on discussing films I have been involved with personally, both here and elsewhere, you will notice that everything is coming up twos. Filmmaking, successful filmmaking, seems to hang on these twos. This is important new information. You will read of one single exception at the end.
My first encounter with filmmakers on the East End was with the movie Grey Gardens made by the two brothers Albert and David Maysles. The documentary they made was about two women, a mother and daughter, named "Big Edie" and "Little Edie," who were the aunt and cousin, respectively, of Jackie Kennedy and Lee Radziwill, the famous sisters who grew up in East Hampton years ago. The documentary was then made into a movie starring Drew Barrymore as "Little Edie" and Jessica Lange as "Big Edie." I got to know the filmmaker, Albert Maysles, pretty well during this time. He invited me to his home on Fishers Island.
I also met two other filmmakers in this community around that time. They are now quite famous, but when I met them in Bridgehampton they were just teenagers and had not, of course, begun their careers. I knew their parents, John and Susan Weitz. Susan had been an actress (stage name Susan Kohner). But John had been all sorts of things, an enormously fascinating man. He was a spy in Germany during World War II, he was a fashion designer, a novelist, a historian and an industrial designer.
Anyway, his sons are Paul and Chris Weitz, and they made the movie American Pie when they grew up and moved to Hollywood, and later were nominated for an Oscar. They are still filmmaking out there. Their parents were very proud of them.
The next pairings involve two movies I have personally had speaking roles in. The first was The Cyclops, a monster movie produced by Roger Corman and directed by Declan O'Brien. It stars Eric Roberts and Frida Farrell, and both my wife and I had roles in it. Also in it were my wife's son and daughter. Both my step-son and I had speaking roles—the step-son in many scenes as a slave, I in one as a senator with one line—but my wife and her daughter were just extras in a crowd scene.
Then there was the 2008 movie I was involved in made entirely in the Hamptons called King of the Hamptons. The filmmaker and star of the film was Dennis Lynch. I had a major role in it. I also was co-producer with Dennis. There were cameos from four celebrities—Alec Baldwin, Christie Brinkley, Billy Joel and Kim Cattrall. In the end, it was not a financial success.